So in the theme of trying to keep things simple (which is my strongest theme on this blog), I have put together 3 healthy microwave recipes that are quicker than you can even think of jumping in the car for a quick fix of junk related food.
Did you know that quite often the biggest hurdle in making healthy food is the obstacle of time and/or ideas to make?
The 'too hard basket' is all too familiar especially when it comes to the end of the day when our willpower is just about run dry. That's where it's really handy to have some quick and healthy meal ideas to whip up and satisfy the quota of it being nutritious and delicious!
Microwaves technology has come so far and Sharp's smart microwave ovens make it easy to prepare simple meals with foods that look and taste great, allowing more versatility and ease when cooking in the kitchen. These smart features allow you to experience the simplicity of cooking quick, easy and healthy meals using a Sharp microwave oven for the family. Quite often we forget that microwaves are used for much more that simple reheating and defrosting and that they're actually a very versatile.
For the benefit of this post I used the R395YS/BK – Midsize Microwave that has inverter and sensor technology, 31 fantastic auto menus plus its finished in stainless steel to really blend with the rest of our kitchen decor. For most of my life, a Sharp carousel microwave has been a staple kitchen appliance. The brand has been at the forefront of technology with a brand that has stood the test of time.
So just what are some healthy microwave recipe ideas? I've popped together 3 of my fave's..
3 Healthy Microwave Recipes That You Can Make in a Flash!
Microwave sweet potato smashed with feta and walnut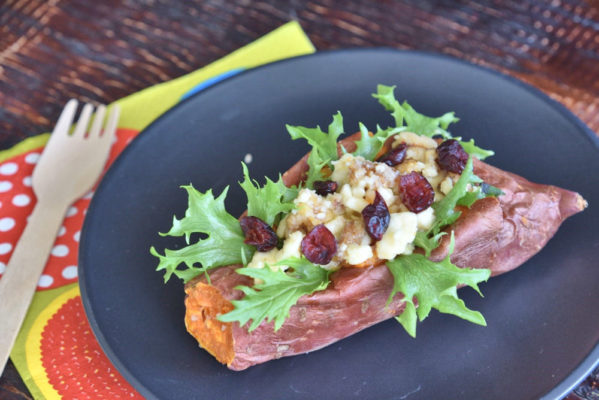 Ingredients
1 medium size sweet potato
1/ 8 of a cup of feta
1/8 cup chopped walnut
1 tablespoon rice malt syrup
Palm sized amount of green leaves
A couple of cranberries
Instructions
1. Wash and scrub the potato and then using a fork, carefully pierce the potato about 12 times around the circumference. This will stop the potato exploding in the microwave.
2. Wet a paper towel with water and gently squeeze out the excess water. Next lay the potato in the paper towel on a plate and loosely wrap. This step allows the vegetable to steam rather than dry out.
3. Dependent on your potato, microwave on high for 4 mins. Flip and repeat for another 4 minutes. You can see by the photo my potato is of medium size so give or take more or less time due to size.
4. While this is cooking, in a small dish combine the feta, walnuts and rice malt syrup.
5. Remove the potato from the microwave and unwrap while allowing to cool.
6. With a knife, cut down the centre of the potato and gently mash with a fork the visible cooked potato to create a little 'fluff'. Top the potato with the greens, feta crumble and cranberries and serve.
Gluten Free Pancake in a Jar
Makes 4 small jar cakes or 2 large ones.
Ingredients
1 cup Gluten free self-raising flour
3/4 cup Milk (can be non dairy)< 1/2 cup Fruit (mango, blueberries etc)
2 tbsp butter 2 tbsp Rice malt syrup
Instructions
1.Melt butter and rice malt syrup in microwave proof bowl on high for 30 secs
2.Remove from microwave and add flour to the bowl. Whisk until combined and stir in milk until batter forms.
3. Place fruit on bottoms of jars (shorter and wider jars work better), then fill about halfway with batter. Pancake will rise while cooking. Microwave for about 1 minute for small jars, or 90 seconds for larger jars. Let cool before topping with more fruit, chia seeds etc
Microwave Cauliflower Fried Rice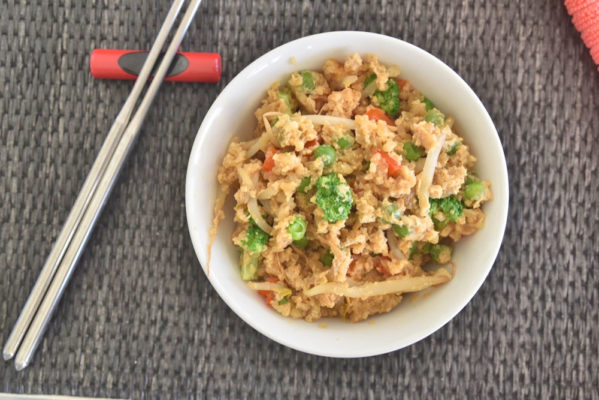 Serves 1
This egg fried in a rice is a great single-serving meal for days when you feel too lazy to cook.
Ingredients
1 cup raw cauliflower, finely processed
2 tablespoons frozen peas
2 tablespoons chopped capsicum
handful of mung bean sprouts
small broccoli floret, chopped finely
1 large egg
1 tablespoon low-sodium soy sauce
1/2 teaspoon olive oil
Instructions
Place the cauliflower into a mug or bowl. Lay the peas, red pepper, broccoli and mung bean sprouts. Cover the mug with cling film. Using a skewer, puncture one or two small holes through the film. Microwave on high for 1 minute 15 seconds.
In the meantime, beat the egg and mix in the soy sauce, oil. Pour the egg mixture into the mug, and stir with the vegetables and rice to combine.
Cover the mug with cling film again, and microwave for 1 minute 15 seconds to 1 minute 30 seconds. Take the bowl out of the microwave, and give everything a good stir. Let the fried rice stand for a minute to finish cooling and serve.