Ky Hurst is a champion ironman and regarded as one of the best open water swimmers in the world. Now at the age of 35, Ky has taken on an exciting new challenge that takes him far from Australian shores but not so far from the ocean he is lovingly dedicated to .
In ironman competitions, Ky has won four Australian Ironman titles, and is a member of the Surf Life Saving Australia Hall of Fame. He is no stranger to mixing things up and has also competed in two Olympic games (2008,2012) in the 10km open marathon event.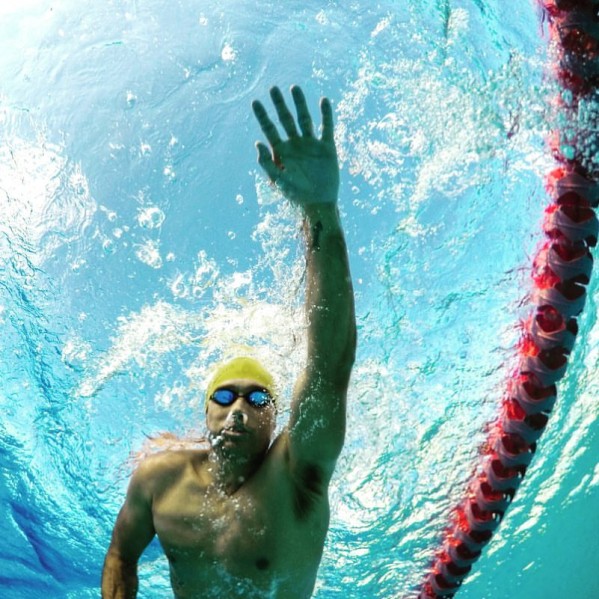 Personally, I know Ky as a gentle, kind person that is extremely modest in his accolades. He's truly an all round good guy. Towards the end of my Ironwoman career we were training partners which gave me a special insight into his amazing ability to read and feel ocean.
Ky is now one of two new additions to Oracle Team USA as it gears up to defend its America's Cup title in Bermuda in 2017. He's a grinder on the new America's Cup Class boats after a series of fitness tests proved he would be a good fit with the team, with his power and drive translating well to the grinding pedestal on an America's Cup yacht.
Although the dual Olympic swimmer has with limited grand Prix sailing experience, he knows what it takes to reach the pinnacle of a sport and is working hard to transition to a new sport.
Ky chats exclusively with Ironmum Karla readers on what he's up to now and what a typical day entails as an Oracle Team USA member.
Ironman Ky Hurst Talks Fitness And Nutrition With Oracle Team USA
Q. You've had some major changes to your life this past year, for those not up to speed can you give us a rundown on what you're up to these days?
A. I guess the biggest change for me has been the change of career I made almost a year ago. I've turned my focus to a different sport and that's sailing. I sail for Oracle Team USA and that has meant the family are based in Bermuda for the next Americas Cup in 2017.
Q. Has it been a smooth transition for you? Has there been (if any) any challenges? (perhaps in a team environment now etc)
A. My transition into sailing has been easier than I had expected. I feel the team here at Oracle are the big reason it's been so easy. They have made myself and the family feel very welcome. The transition to sailing has been smooth too.
Ky enjoying a post-training session ice bath with skipper Jimmy Spithill
Q. Describe a typical day for you as an Oracle team USA member. Would you say it is harder/easier than Ironman training? What is different?
A. A typical day for me at Oracle Team USA always changes but when the wind is on point I usually have a gym or some type of dry land work in the morning then breakfast at 9 am at the base. We then have roll-out, so that's setting the boat up and putting her into the water by crane. We then have systems check onboard followed by push off the dock to head out for the day of sailing. On a good day, we can sometimes sail for up to 4-5hrs. The training I do now is very different to Ironman training. Its been a lot more strength-based so that has meant a lot more time in the gym.
Q. These boats are amazeballs, can you give us an idea of what speeds you are reaching in training and what it feels like?
A. It's a surreal feeling being on one of these boats. My position on the boat is number 1 so I actually face backwards. It's crazy to think how fast we travel along the water and powered by wind. Our speeds are all determined by our foils, so it always changes. Because we don't just straight-line our speeds are reduced. This is so we can manoeuvre the boat around the racecourse. It's funny thinking I've gone from travelling on or in the water at a couple of knots to now our top speed just last week hitting 47 knots so that's just shy of 90 km on the water wind-powered.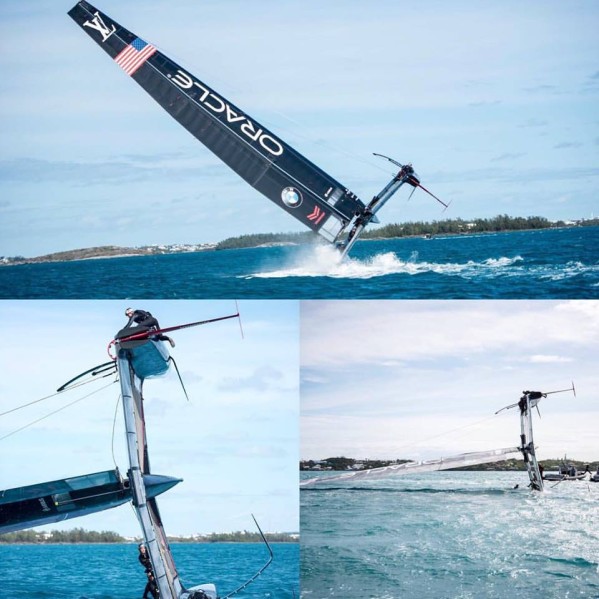 And that's what happens when travelling at crazy fast speeds!
Q. You're a dad now, what is life like with a family living in Bermuda?
A. I'm so lucky to have a healthy son and I feel blessed every day that he can grow up in a location like Bermuda. Its such an incredible place for a child to grow up. It's a small island that takes less than an hour to get from one end to the other that is dotted with abundant marine life, reef and beaches. I love that I can introduce him to so many sports and experiences on the water.
Q. This may be obvious, I am not sure, but why Bermuda?
A. After each America's Cup, the winning team is given the choice of where the next Cup will be held 4 years down the track. Oracle Team USA won in San Francisco 2013 and chose Bermuda for 2017. Bermuda is a great location being in a good time zone for Europe and America come the Cup.
Q. What food makes up the majority of your diet? What do you steer away from?
A. I'm really lucky that we have a chef that prepares all of our food at work for the team. I try to keep a healthy balanced diet of protein, carbohydrates and fats to sustain me during training and the hours out on the water. The majority of my diet is balanced between these. I try to steer away from sugars and processed foods when I can.
Q. What is your favourite healthy snack?
A. Lately- protein balls. As we spend so much time out on the water sailing we need easy snacks that we can have throughout the day. They taste so good and are usually consumed pretty quickly in between stops on the water.
Q. What has changed over time in regards to what you ate 10 years ago to what you eat now.
A. If there is one thing I can think of it's more salads and vegetables and less wheat. Greens now make up a larger size proportion onto my plate than 10 years ago. I learned from the best- my mum. She brought my brother and I up on a really healthy diet that must have given us the extra energy so we could constantly run around. I don't think I would have changed anything from how I ate as a kid because whatever mum fed my brother and I worked well.