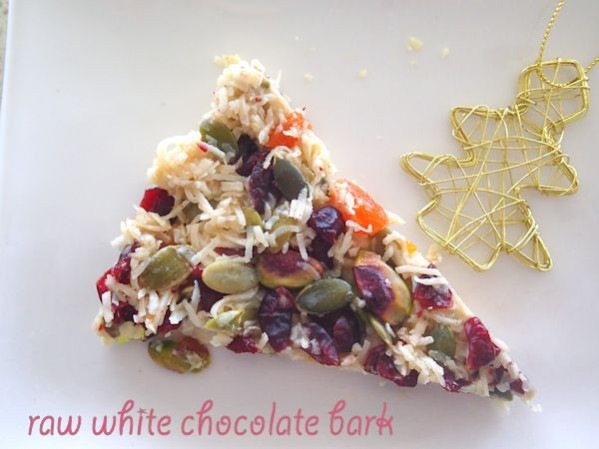 Oh, how decadent is this little treat?
This raw white Christmas bark is filled with healthy goodness and perfect to make for seasonal gifts or to treat your own family.
The base is cocoa butter which you can find at health food stores. It is similar in appearance to soap…but smells like chocolate. This is a dairy-free fat which essentially makes up the basis for all good chocolate, (until manufacturers add in casein, whey, milk solids, milk powder and other ingredients) so if you are a vegan or going moo free this is for you. Use dehydrated dried fruit if you want it truly raw otherwise store-bought dried is the other option.
The good thing about making this is you are not including all the processed nasties that come with chocolate but rather enjoying it in its pure form with fruit and seeds.
Raw White Christmas Bark
100gm cacao butter
1/3 cup agave syrup (or you can use rice malt syrup or stevia liquid drops)
1/3 diced dried apricots
1/3 cup dried cranberries
1/3 cup shelled pistachios
1/4 cup pepitas
1/3 cup coconut oil
1/2 cup shredded dried coconut
Method
1. Melt the cacao butter in a thermomix or in a double broiler saucepan over boiling water. It will take less time if the butter is in chunks rather than a slab.
2. Once melted and still hot, pour in the coconut oil, stir until it is also melted (if it is not already)
3. This is where you are going to have to let you taste buds be the judge, using sweetener of your choice (stevia, agave syrup or rice malt syrup) add until it is just sweet enough to your liking. Once this is done let it cool in the fridge for 20 mins.
3. Once it is cooled, process at high speed until it begins to turn from a liquid into a creamy paste.
4. Transfer to a bowl and add the shredded coconut, nuts and dried fruit and gently stir to combine.
5. Spread the mixture out on a lined tray (I use a pizza tray) and press down to form the bark. Try not to spread it too thin here, you want some volume to give it strength. Pop it in the fridge or freezer to harden for about an hour.
6. Cut into triangles. Store in the fridge or freezer. Enjoy!