"So, Karla we are having an event in Tasmania in October and we would love for you to be a part of it?"
"Sure… Scott sounds great and I look forward to it, just fill me in on the details once it gets closer"…
So…Tell me…. I'm eager to know. What constitutes and forms an 'event' in your mind?
From past experience, an 'event' has familiarities such as black tie formal fancy type dos, or perhaps a conference.
Oh, how I was wrong.
About 6 months after having this first chat with Scott Watters, CEO LifeChanger, Trevor Hendy and Pat McCurry it was revealed that in fact the event was a full blown multi-day hike on one of Australia's toughest tracks and we only had 6 weeks to prepare.
The South Coast Track located in the Southwest National Park is renowned as being one of Tasmania's premier wilderness walks. Starting deep within the World Heritage Area at Melaleuca the hike takes you 85km across rugged mountain ranges, coastal tracks and wild yet pristine beaches. It is so remote that there are no roads to Melaleuca so hikers must fly in to begin the walk.
The guide book reads
Taking between 6 – 8 days to complete the South Coast Track covers some of the most untouched and remarkable wilderness found anywhere in Australia. Tackling the trail requires suitable planning, experience and equipment. Hikers must be familiar with Tasmania's wilderness walking conditions. It is recommended that the track is walked during summer months.
After realising none of the above requirements were met, I was feeling more than confident… NOT
My first reaction to myself was 'There is no way Karla you can do this. You hate camping, won't have a shower for days, have never done a hike before and it will be freezing!" I acknowledged this voice but shut it down quickly and committed myself to something I thought I could only grow from. After all we were doing this with a bigger purpose in mind.
This trek was the first event for the newly formed LifeChanger Foundation. All funds raised are to help launch LifeChanger and its digital platform, community workshops and scholarship program (which I will be acting as a mentor). The foundations vision is to "awaken the unlimited power that lives within all youth" by positively impacting the negative statistics surrounding Australian youth including;
50% of teenagers experience cyber bullying
Youth suicide is the number 1 killer of young Australians
1 in 6 kids (7 – 15 yrs) has been diagnosed with an anxiety disorder
1 teenager in every classroom has a gambling addiction
With corporate and individual investors throwing their hat in the ring, they too were signing up to experience a little hardship and to challenge their current ways of being. With trek leader Mark George – 2 x seven summiteer at the helm I was left feeling a little more at ease with tackling the unknown.
After 6 weeks training of long hikes in the Gold Coast hinterland getting used to carrying a 17kg pack, refining my pack to be totally self-sufficient, and getting used to my boots – I thought I was ready as I'll ever be.
I must say it helped to have beautiful friends joining my on the walk from the Gold Coast. Long-time friends Trevor and Jo Hendy, Janet Franzmann who continues to inspire me daily and Andrew Cairncross who thankfully put up his hand at the last minute to step in as doctor for the trip.
With a stated average of 9 days to complete the walk – we were hoping to make our return flights 5 days later. This was a gamble with weather conditions, creek crossings and potential injuries possibly changing this ideal. Oh and I did mention we were all inexperienced?
South Coast Track 2017 – LifeChanger Challenge 1
DAY 1
Once we landed in Hobart, it was time to board our tiny Par Avion flight. This flight along the most southern coastline in Tasmania was nothing more than spectacular and a great chance to see parts of the track we will be returning on. Landing in Melaleuca Station was a quick transition to meet up with the rest of the LifeChanger crew who flew in from Melbourne and to load up on the supplied tents, stoves and food packs.
Without time to register we were here and happening, it was 3pm and we were looking down the barrel of an 11km walk to our first camp site for the night. The walk from Melaleuca to Cox Bight beach was a nice (but maybe false) introduction to the hike, with boarded flat trails and an uncharacterised 28 degree day. After navigating the tent, sleeping bag, sleeping mat setup for the first time – it was refreshing to jump into the nearby freshwater creek to wash off and settle in for the night.
DAY 2
Waking to rain and chilly conditions was a rude shock. A quick breakfast of oats and boiled water, tent dismantling and pack repacking we were off on our first full day – with the aim to make it as far as we can before we lose light.
Leaving Cox Bight beach the track skirted below Black Cliffs. After another short beach walk the trail then headed inland towards Red Point Hills. For the next 4km the trail crossed muddy button grass plains before eventually climbing and descending over Red Point Hills. In the distance the ever looming form of the Ironbound Ranges was clearly mesmerising.
Our front end experienced trek leader Eric Phillips would call frequent breaks of 10 mins to allow the group to reform as we fuelled up on protein bars, water from running streams and cups of soup for lunch in our thermos with water that was pre boiled during breakfast.
The track then continued below Spica Hills, crossing Louisa Plains via another muddy board walk section. The trail then entered a lovely forest canopy surrounding Louisa Creek, where there was a knee high creek crossing. After another kilometre we reached Louisa River and the second night's camp, where we nestled amongst the rainforest canopy. With the drizzling rain, we attempted a mediation session headed by Jayne Hope and talk with Trevor Hendy. With tired legs and leeches on the prowl our tiny tents were heaven to escape to for the night.
Totalling 20 km, 7 hours with a total of 510 m elevation, we didn't reach the destination that we had hoped but needed to rest up as tomorrow was the crossing of the Ironbound Range.
DAY 3
Having now the tent dismantling down pat we were up at 6am for a 7.30am start. Today was the big one, the one we had been training for and the weather wasn't wanting a bar of it.
The infamous Ironbound Range is 905 metres above sea level. The climb is tough with thanks to heavy packs but with well-constructed steps it was doable. With many fake apexes were it was indescribable as to the scale of the ranges until you eventually make it to the summit… As we neared the summit the weather turned wild with crazy extreme wind which nearly bowled a few of us over. Unable to view the panoramic views we deserved due to heavy fog and rain, there was frost forming on my ski gloves that I am glad I packed. It was loosely thrown around that we were in 2 degree weather with a wind chill of -5 degree and probably the coldest I have ever felt!
From here it is another very slow 7km to Little Deadman's Bay. On the descent our surroundings changed dramatically, entering some of the thickest rainforest walking conditions in Tasmania. Each step was a strategic move, navigating knee high mud sections, buttress root system and what seemed like waterfalls at times. This was by far the most challenging part of the track but also the part that gave me the most belly laughs. There were spills galore, and a little loopiness going on just because the track was that crazy to navigate at times we just had to stop and laugh…or we would cry!
By the time we reached the bottom it was utter relief and for the next 4km the going is much easier and flatter, eventually arriving at lovely Little Deadman's Bay camping area.
Arriving here wet, muddy and tired we felt accomplished with the day but with realisation that we were still behind target to make to back to Hobart by Sunday evening… And that hot shower was our inspiration! 14.8 km, 6 hours with a total of 1000m elevation day 3 was a tough one!
DAY 4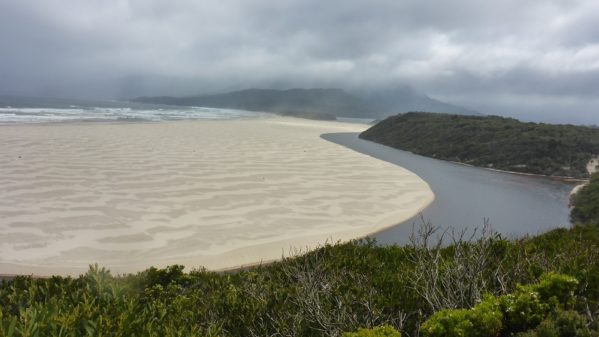 Waking at 5am for a 6.30 start, we all quickly jumped into action and were ready to hit the track. Today hike includes a boat crossing at New River Lagoon so we were aware of the fact we needed to allow time to transport 20 people across a 200m crossing with only 3 tinnies.
Leaving Little Deadman's Bay the track returned to the plains and to the mud. Deadman's Bay is reached next and the track continued along the beach for a short distance before heading inland across Menzies Bluff.
After battling the mud once again for an hour the trail opened up onto spectacular Prion Beach. From here on walking was much easier in the sense that there was no mud but super soft sand instead, until we reached the New River Lagoon boat crossing. From Prion Beach the track headed inland across the first of the South Cape Range headlands, passing through welcome eucalyptus forests to Surprise Bay and eventually on to Granite Beach (large boulders to navigate) where after a scale of a cliff face we set up camp for the night. With a total of 900m elevation, 24km covered and 6 hours of walking.
The weather was still drizzling and leeches were hitting everyone hard. Our dehydrated dinners in foil packs never tasted so good and although I tried to wash off in the nearby waterfall the temps were freezing and I had to settle for a sponge bath.
There were tales of people waking the next morning with very full leeches still clinging to hands, faces after making it into the tents during the evening. Nice!
DAY 5
So, today was supposedly to be our last day. With a 4am wake up we had to make sure we hit the track at first light. There was an air of excitement and lots of talk of hot showers, what foods we were craving and the feeling of sliding into clean, white crisp sheets that night.
Leaving the gorgeous Granite Beach camp area the track returned to the muddy marshes and slowly climbed to Flat Rock Plains on the South Cape Range. Walking again was difficult due to the ever present mud and after a few hours of walking the South Cape Range, finally the summit was reached. From here the view was amazing and we were able to see just how far we had come.
As we descended again walking was slow due to the thick overgrown forest and deep muddy sections. I go as far to say it was worse than the descent of the ironbound ranges, with more mud and tricker tree root systems to navigate. After what seemed like forever and after another nasty, calf biting climb and descent, South Cape Rivulet appeared through the tree line. Here we joined arms to cross a very strong outgoing stream and it was a beach walk before heading inland and climbing yet again to the cliff top headland of Coal Bluffs before slowly descending through thick muddy forest to South Cape Bay. As we approached South Cape Bay, Lion Rock was a welcome sight through the trees, which signposted the beginning of South Cape Beach..
After conquering the steep staircase the knowledge that there would be no more major climbs, mud or tree roots, there was a minor celebration from the crew. From here we had a walk through Eucalypt forest and across duck boarded marshlands to Cockle Creek. What should have been the easiest part of the track was probably the toughest, mentally. With many of the group going without food for the day, tired bodies, blisters and injuries began to flare with the thought that the track was nearing completion. In a way I guess we dropped our bundles a little too early without knowing there was still a 3 hour walk ahead of us.
Cockle Creek could not come soon enough. After 966m total elevation, 22km and 8 hours of walking, we were welcomed by a mini bus to drive us 2 hours back to Hobart and the comfort of the Wrest Point Casino. After an amazeballs dinner in the revolving restaurant that was specially prepared for us (at 9pm at night) we shared stories and finally had a chance to come to grips with what we had all achieved.
Thank you Scott, Pat and Trev for including me on this unbelievable journey. I saw many people's lives change on this trip with many vowing to do things differently once they returned home. This kind of extremeness is good for stuff like that and I can't wait to get busy with the LifeChanger mentor program.
To everyone that formed the LCC1 tight knit group (in no particular order)
Michelle Stanton ,Brent Valle, Scott Brownbill, Olga Rudenko, Eric Phillips, Rick Rifici, Barry Carp, Mark Smith, Pat Obrien, Amanda Peppard, Andew Cairncross, Joe Farrant, Janet Franzmann, Jayne Hope, James Harding, Robbie Kearns, Scott Watters, Mark George, Trevor Hendy, Will Gilmour, Steph McNamara, Jo Hendy you are all a bunch of legends and we will forever carry this trip close to our hearts.
Also to the sponsors – Kathmandu for their generous reduced rates on gear, Melrose Health and Tailwind supplements and Wrest Point Hotel and MyDNA for your invaluable support.
So you may not want to get this down and dirty but you can help from the comfort of your home. Head over to and find my name on the list to donate what is going to be a ground-breaking program to create a generational shift in society, providing every young Australian with the opportunity to develop a healthy personal identity, empowering them to live their best life!