Firstly I wanted to say that I am by no means a huge consumer… In the past couple of years I've actually felt a pull to remove myself from consumerism and become more aware of the effect materialism has on happiness. Now, with each purchase a decision of "Do I really need this"?, "Can I live without it?" Most of the time the answer is no, I don't need it and I make do with what I have. This isn't coming from a financial stand point but rather bringing a minimalism approach to the amount of 'stuff' in our house.
In saying this though I do come across awesome products that make all my dreams and values in life more purposeful. These are things that enhance my active and healthy lifestyle while supporting my goals.
5 Awesome Products I'm Head Over Heels For
Skins A400 womens compression long tights.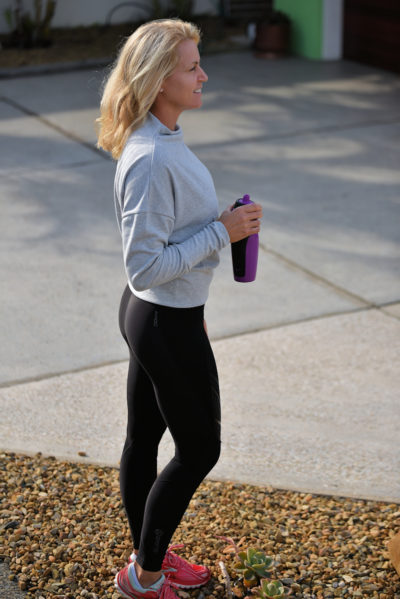 These tights are so light and comfy that I don't want to take them off (lucky you can sleep in them). With a 5 day hike in Tasmania looming in October (eekk!), these tights have provided the perfect training wear on chilly morning runs/paddles. With light refracting panels (great in the dark) they feature compression from the calf to the upper thigh muscles.
I'm sure they will be worth their weight in gold in Tasmania helping to help ease aching muscles after long days hiking! Teamed with the sport fleece crew neck and it makes a sporty but not daggy combo!
Garmin 735XT GPS Running Watch with Multisport + Qalo Silicone Wedding Ring
I held onto my old Garmin for so long! But after many wrist band changes, it was time to upgrade to the Garmin 735xt. I wouldn't call myself a data nerd but I do like tracking my steps each day whilst keeping an eye on my heart rate during sessions. If you want to stay connected it can even send you text messages and email, but I find this an unnecessary distraction.
The watch has the ability to record data for standup board paddling which is right down my alley, with stroke rate and distance. I do love the several thousand interface apps you can choose from so you can never bore of the same display.
By downloading my runs onto the app Strava, it's fun to compare times from other training day segments and stay up to date with my private Tasmanian hiking group teams training logs.
Regards to my ring. My husband and I bought a Qalo silicone ring last year as the perfect answer our active lifestyles. I was finding that my wedding rings were sitting on the bathroom bench, with fear that I would misplace them during one of the many times I go training and not remember where I put them! Now, I can paddle, run, swim, travel (I didn't like to travel OS with them as I spend most of my time in the water!) and still feel connected to my husband. Awww….
Deco TP-link
I have come across the most user friendly Router/Wifi Range extender/Parental control device my husband has ever seen.
This TP- Link Deco Whole home mesh system wi-fi system consists of small disc shaped units that can be installed around the home to allow for amazing wi-fi coverage. It was incredibly easy to set up and all done via a smart phone app. Once you have downloaded the app and powered up the first unit and connected it to your modem the app finds the Deco unit and takes you through the set up, step by step in a matter of seconds. This process is followed for each additional unit you wish to use around the home to extend wi-fi coverage to every corner of the house.

Each unit has two ethernet ports for wired devices. But I think the most impressive thing about the system and the app is it allows full control and knowledge of each device that connects to the system. As parents this means being able to put parental controls on devices that includes such things as filters for the type of sites that can be visited down to the times the devices have access to the internet (so good). It can even show you the sites that have been visited. All this is done via easy to create profiles.
The system also has 3 years built-in internet security for the network..bonus!!.
Maui Jim's
Until you try on a pair of Maui Jim's you don't know what you 're missing out on. Seriously! Maui Jim are some of the highest quality sunnies on the market and for good reason. The companies ethics and values are commendable and this shows in their value to you as a customer. Lightweight, perfectly polarised and right on par with the latest style trends!