There's just something about a rich, creamy meal that demands your attention now and then.
The trouble is that we're often made to feel guilty when we add a tub of fresh cream to our shopping cart. But it's possible to stick to a healthy diet and enjoy a creamy temptation now and again. The key is to listen to your body on what works and doesn't work, and don't over do anything. Practicing mindfulness eating techniques is a far better option than eliminating food groups (if there is no signs of intolerance or allergies).
By incorporating new fresh ideas, there are ways to enjoy full fat dairy (which is back in, if you haven't heard) but without the heaviness of traditional recipes. Here are my top five healthy creamy recipes that aren't too naughty for the hips, but are very, very nice for the lips.
Healthy Creamy Recipes That Are Fresh and Tasty
Zucchini noodles with creamy pesto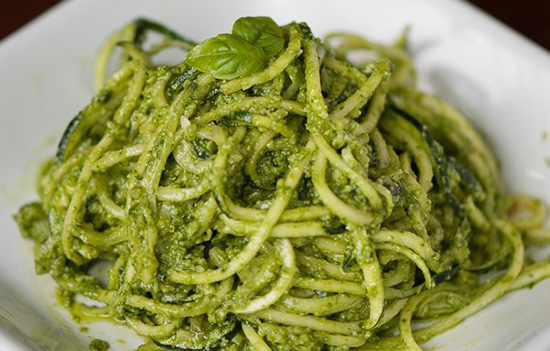 When you need comfort food, there's nothing like a bowl of spaghetti with some devilishly creamy pesto sauce. Choose a healthier option and use a spiraliser to make fresh zucchini noodles instead of going for classic pasta. The 'zoodles' are a perfect addition to pesto, which has healthy fats like olive oil and pine nuts for that smooth texture. Try a sprinkle or two of parmesan cheese to add a kick of flavour!
Roasted beetroot, walnut and goat's cheese salad
Goat's cheese is deliciously creamy plus it has a pretty bold taste (so a bit of it goes a long way). To go with your cheese, beetroot and walnut salad, you can make a delicious dressing using lemon juice, olive oil and a dash of rice malt syrup. This dish is particularly great for when your craving for cheese comes calling. I like to buy cheese online from suppliers who source their products from local farmers, as it's important that the goat's cheese is really tasty and fresh.
Stuffed butternut pumpkin
I don't know who first had the idea to stuff vegetables, but they definitely deserve an award! You can boost the taste and natural creaminess of a butternut pumpkin by stuffing it with feta, and tossing in some quinoa, parsley and sun-dried tomatoes for extra tastiness. This recipe makes it incredibly easy to get your creamy food fix with minimal effort. Best of all, there's no guilt – even if you finish the thing yourself!
Pan-grilled chicken breasts with mushroom sauce
Seriously, what goes better with chicken than a creamy mushroom sauce? Make it healthier by using a low-sodium chicken stock or broth as the sauce base, then throw in chopped shallots, a squeeze of lemon juice, some mushrooms and a dash of cream. I pan-fry my chicken in a skillet to keep the meat moist, then add fresh cream (lots of choices to buy fresh cream online). This dish feels very French, in the best possible way, and I love complementing the chicken with a small serving of brown rice.
For a delicious breakfast or dessert option, this rice pudding cannot be beat. It's a real hit with the family – and the kids don't even know it's relatively good for you! To keep your rice pudding healthy, use brown rice, sultanas for sweetness and low-fat or no-fat fresh milk. You can top the pudding off with a pinch of nutmeg or slices of your favourite fruit for added flavour. Rice pudding is great served either hot or cold, and whichever you prefer, you can enjoy eating this version even when you're on a diet.
This post is bought to you by and in support of Aussie Farmers Direct, an online retailer that support local farmers. This company supports Aussie Farmers Foundation that aims to help farmers and their communities such as a lack of health services, social isolation, higher youth unemployment, mental health problems and disaster relief.