We're about to delve into the next big thing this summer and that would be cold press juicing. Not only are we juicing our way to health but now it seems there are healthier ways to do it!
Cold press machines extract juice by pressing and grinding fruits and vegetables without adding heat, hence the term "cold-pressed." – This process means that the juice is done via a non-heat extraction process of around 65 rpms keeping nutrients and enzymes in their original form. This essentially leaves you with the most nutritionally intact juice available, and more of it. To give you an example, traditional juicers are heated at over 1,000 to 30,000 rpms, a method that readily destroys and oxides all the goodness in your juice before you get to drink it!
Juicing at home allows you full control over what goes in. Aim for nutrient-dense vegetables and sweeten slightly with fruits. Overtime you will find you will decrease the fruit content while still enjoying your greens as your taste buds adapt to less sugar.
The part I like about my Mod juicer is the quietness of the machine and the ease of cleaning. Something that can take 15 mins to clean really does outweigh any benefit of a juice, which is why cold press juicers are so handy. Look for a machine (such as Mod) that has oversized chute, which takes the hassle out of chopping, peeling and coring before hand. My cold press juicer is compact (plus stylish) to leave on the kitchen bench which saves having to look for precious cupboard space.
If you're a fan of nut milks then a cold press juicer may be your best friend in the kitchen, especially after this post, on my Facebook page last week on the content of almonds in almond breeze (or their lack of). Oh, and don't throw out that pulp from the almonds.. turn it into almond meal by spreading it on a tray and popping in the oven for a few hours on low heat.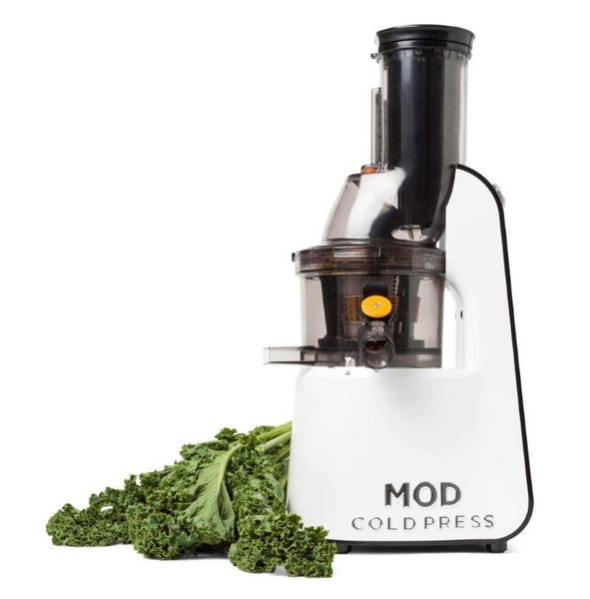 Cold Press Juicing Recipes
Detox Juice
1 cup kale
2 Swiss chard leaves
1/2 cup parsley
1/2 small beetroot
1/2 cup pineapple
2 green apples
1 sprig fresh mint
1/2 lemon, peeled
Pink Panther
8 strawberries
¼ of a watermelon (skin removed)
1 apple
2 sprigs of mint
Red Riding Hood
1 small beetroot
1 large red apple
1 orange, peeled
1/2 a pear
5 large carrots
1 thumbsized knob of ginger
1/2 large apple
1 small beetroot
1 large knob of turmeric
If this sounds interesting I have an exclusive offer you on any Mod Cold Press juicer of $25 off.
Just use the code "karla25" on checkout – Oh and they have free shipping too!
There is also a link on the sidebar if you would like to take advantage of this offer.