Who doesn't have fond childhood memories of biting into and cracking open a passionfruit straight from the vine and hoeing into it? Ok, so that may just be mine .. but that's why I love passionfruit so much, from that first semi- bitter bite that excites all your tastebuds and little pockets of crunchy seeds.
Passionfruits are such an exotic fruit that make you sit up and take notice of what you're eating. High in vitamin C, antioxidants, fibre yet low in fructose – the sugars responsible for a lot of modern day health issues.
We have a vine growing in our veggie patch that requires no attention yet produces massive amounts of fruit a couple times a year. This is one of those times. Passionfruits can have quite a distinct taste which is why I came up with this recipe in aid of using a bulk of ripe fruit but without overpowering the end result. This recipe is gluten free and contains no added sugars.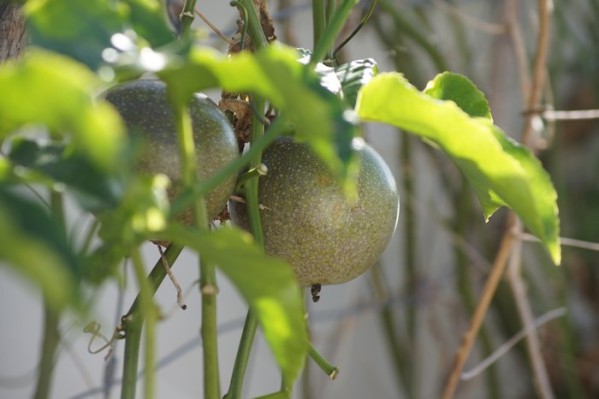 Passionfruit slice with chia seeds
Ingredients
+ 15 passionfruits, pulp removed and in a bowl
+ 1/4 cup water
+ 4 tsp stevia or 1/2 cup rice malt syrup
+ 1/2 lemon, juiced
+ 1/2 tsp of vanilla bean paste (or vanilla essence)
+ 1/2 tsp ginger powder
+ 1/4 cup chia seeds
+ 2 tbs psyllium husk (isn't that just the hardest word to spell!)
For the crumble
+ 1 cup almond meal
+ 1 cup brown rice flour (or wholemeal if not worried about gluten)
+ 2 large pears, chopped and pureed
+ 3 tsp stevia or 1/2 cup rice malt syrup
+ 1/2 cup rolled oats
+ 1/2 cup shredded coconut
Method
+ Preheat oven to 180 degrees
+ In a medium pot over low-medium heat, combine passionfruit, water, stevia, lemon juice, vanilla and ginger. Cook on a low heat for about 10 minutes, or until the pulp is cooked down. There will be a lovely aroma filling the house!
+ Remove from the heat. At this point, check the sweetness of the mixture. If it is not sweet enough, add more stevia.
+ Add in the chia seeds and psyllium husk, and allow to thicken. Here you will have to play by ear, and give the seeds time to absorb the excess juice. If it is still too watery just add more chia seeds until it is a thick consistency. It is best it is kept a little runny as it tends to dry out more in the oven. If it is too thick just add some water and stir.
+ Meanwhile, in a large mixing bowl, combine the flours, coconut, pear puree and stevia. Mix until a crumbly consistency is reached.
+ Spoon the mixture into a 8×8 pan (sprayed with non-stick cooking spray) and press mixture onto the bottom to form a crust.
+ Bake in the oven for 12-15 minutes, or until the edges are lightly browned.
+ Once the crust is browned, pour the thickened filling on top and spread evenly.
+ Again, bake in the oven for approx. 15 mins, or until the top is set.
+ Allow to cool for about 1 hour in the pan.
Cut into squares and enjoy!