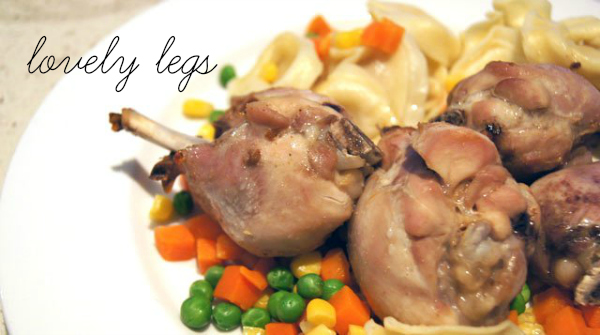 Growing up this was one of my favourite meals I would beg mum to make. These chicken lovely legs are just so damn delicious and when left to bake in the marinade the meat tenderises to perfection. Kids love any excuse to eat with their fingers so this meal is finger food allowed!
Lovely legs are simply chicken legs with the skin removed (less fat) and the lower bone chopped off. You can buy them already prepped at most supermarkets or butchers or for a cheaper alternative buy chicken legs and DIY.
For best results marinate the chicken for a day in the fridge but it will also work if you only have time to bake in the juice.
LOW FUSS CHICKEN LOVELY LEGS
Serves 4
+ 8 chicken lovely legs or drumsticks and DIY
+ 1 cup pear, apple, or orange juice (I find the pear juice from tinned fruit works well)
+ 1 tsp ginger powder
+ 1 tsp crushed garlic 2
+ tbs honey
+ 4 tbs soy sauce
How to make
Step 1 – Place the chicken legs in an oven dish big enough to fit them side by side
Step 2 – Mix the marinade ingredients in a jar and pour over the chicken
Step 3 – Allow to marinate in the fridge for up to one day (this is not compulsory!)
Step 4 – Bake in fan forced oven at 200 degrees for 40 minutes covered, then uncover and turn the legs and bake for a further 30 mins uncovered
Step 5 – Allow to cool and serve with vegetables and pasta or rice